I have been keeping myself quite busy lately. There has been lots of painting, decorating, and rearranging going on around here. (will post pics in a few days)
We have a busy weekend ahead; we are having a sweet 16 party for my youngest tomorrow and I still have a ton to do to get ready.
I will post a thorough update next week chock full of pics.
---
Until then, I have jewels to share with you.. My box of treasures got misplaced in the midst of all the decorating and painting. So now I finally have pictures to share.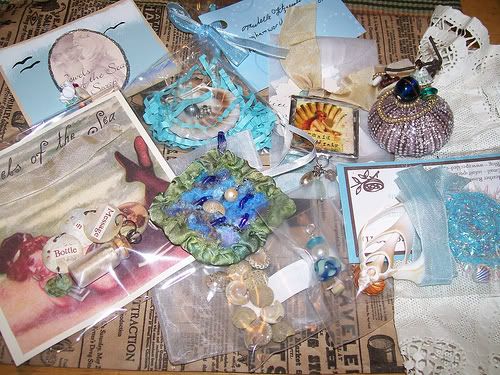 Jewels of the Sea swap..
Treasures from:
Margo - diningroomstudio.blogspot.com
Barbara
Diane - dianeglass.blogspot.com
Michelle G. - michellegeller.typepad.com
Bambi
Michelle F. - ginghamworld.blogspot.com
Jenny - fatedfolliesstudio.blogspot.com
Heather - speckled-egg.blogspot.com
Thank you all so very much!
Big Huggs..
Tonya