Hey y'all.. Hope you've had a great week! I am sooo ready for the weekend. The girl's are coming to town! WooHoo! Tomorrow we are going to the Bridal Extravaganza. I have been one other time and let me tell you, that place was jam packed. I don't expect this time to be any different. But I am looking forward to sharing this with my baby girl.
Oh... I got the pics of the kitchen. :)
Okay.. here is the before...
and now... after!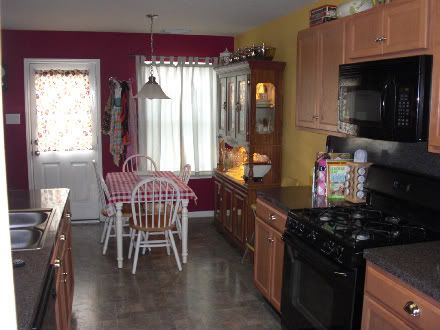 I am soooo in love with this mustard color..
and they new cabinet hardware.. Lurve It!
I thought that the color would make the kitchen seem smaller than it already is.. but it actually makes it feel bigger. :)
Now its time to move on to the master bedroom.
I have the moulding already just need to cut, paint and put it up. I need to paint the walls too.. I do have the wainscoting up already though. :) and my wonderful hubbikins is going to make us a big custom headboard. Yay!
Okay y'all.. Well I need to get an apron and a set of placemats made before Sunday, so I guess I better get busy. :)
Have a great day!
smoochies!